T1 Ocean Crossing Entry #6: T1 Arrives Home to Maui!
It's hard to believe that it's already been 3 weeks since the crew and I completed our T1 ocean crossing and arrived safely back on Maui. I've settled back into normal life, back into the routine of life on Maui, and back to running our popular day trips to Molokini. A few days prior to arriving on Maui, the journey already seemed like a distant memory, and now it truly is. It was an amazing experience to travel so far, (6,000 miles and 44 days) to be gifted with such great weather, to avoid any major incidents and to still all be friends at the end of the long journey. Good crew, good times, great memories!
One of the most wonderful things about returning to Maui was the color green. After 12 straight days of seeing nothing but blue, fleeting reds and oranges (sunrise and sunset) followed by the monochrome nights, the color green was a more than welcome sight indeed.
I want to say a big thank you to the Trilogy Ohana for the opportunity and for the wonderful welcome they gave us as we pulled into Lahaina harbor. We were welcomed with handmade lei Po'o, doused with champagne and treated to a welcome that far exceeded our expectations. It was a truly special moment.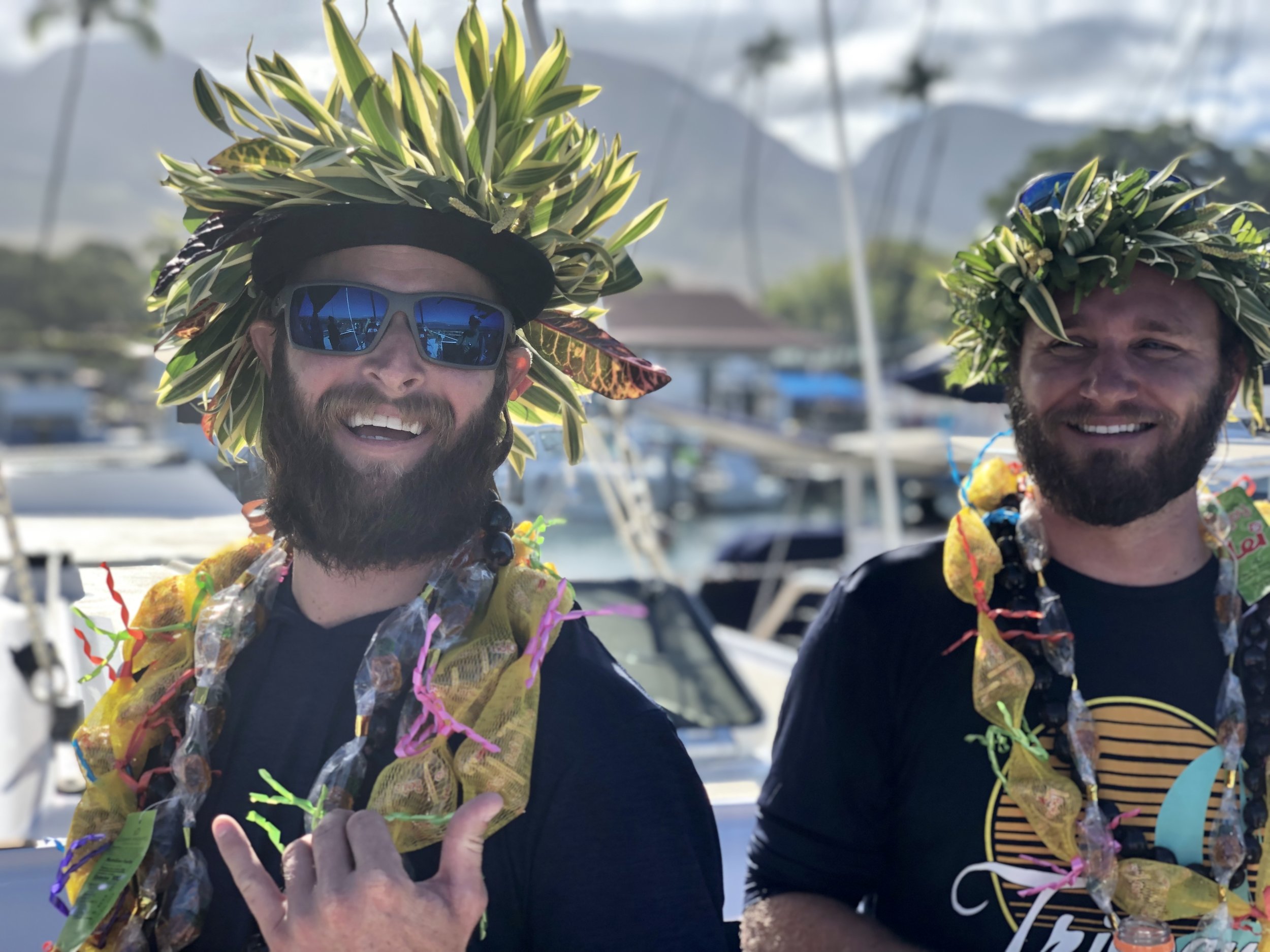 Trilogy I will be replacing Trilogy 5, a boat that's been in the Trilogy ohana for almost 20 years. We all love T5--she's a solid, sea-worthy boat, but the new T1's sleek design and superior build will be a real upgrade for our guests and crew! We are looking forward to getting her in ship-shape and back to her regular schedule.
See you out on the water,
Rich
More About the New Trilogy 1
The new Trilogy 1 will host our Discover Molokini, Sunset Sail, and winter Whale Watch Excursions out of Ma'alaea harbor.
Length: 55'
Width: 29'
(2) Cummins 6-cylinder diesel engines with Turbos
Total horsepower (combined) 610
Air Conditioning in the heads
Certified for 64 guests
Comfortable Max Capacity: 45-50 guests
Built: 2019. Gold Coast Build from the Island of St. Croix
Written by: Rich Foster
EDITED BY: BRITTANY FRISKICS