Blue'aina teams with TC Kokua to raise $1000 for the Eyes of the Reef and Hawaiian Island Land Trust
Even before the volunteers came aboard they had already gathered a trash bag full of leftover Halloween garbage, bottles and other harbor rubbish. These are the types of volunteers that come out on Blue'Aina trips, they understand what its all about. Blue'Aina is all about taking care of the Aina, both blue and green.
After loading supplies, volunteers and food, Trilogy I set off to Olowalu Reef to spend the morning searching for trash, learning about the ocean and how to get more involved in caring for our beautiful waters.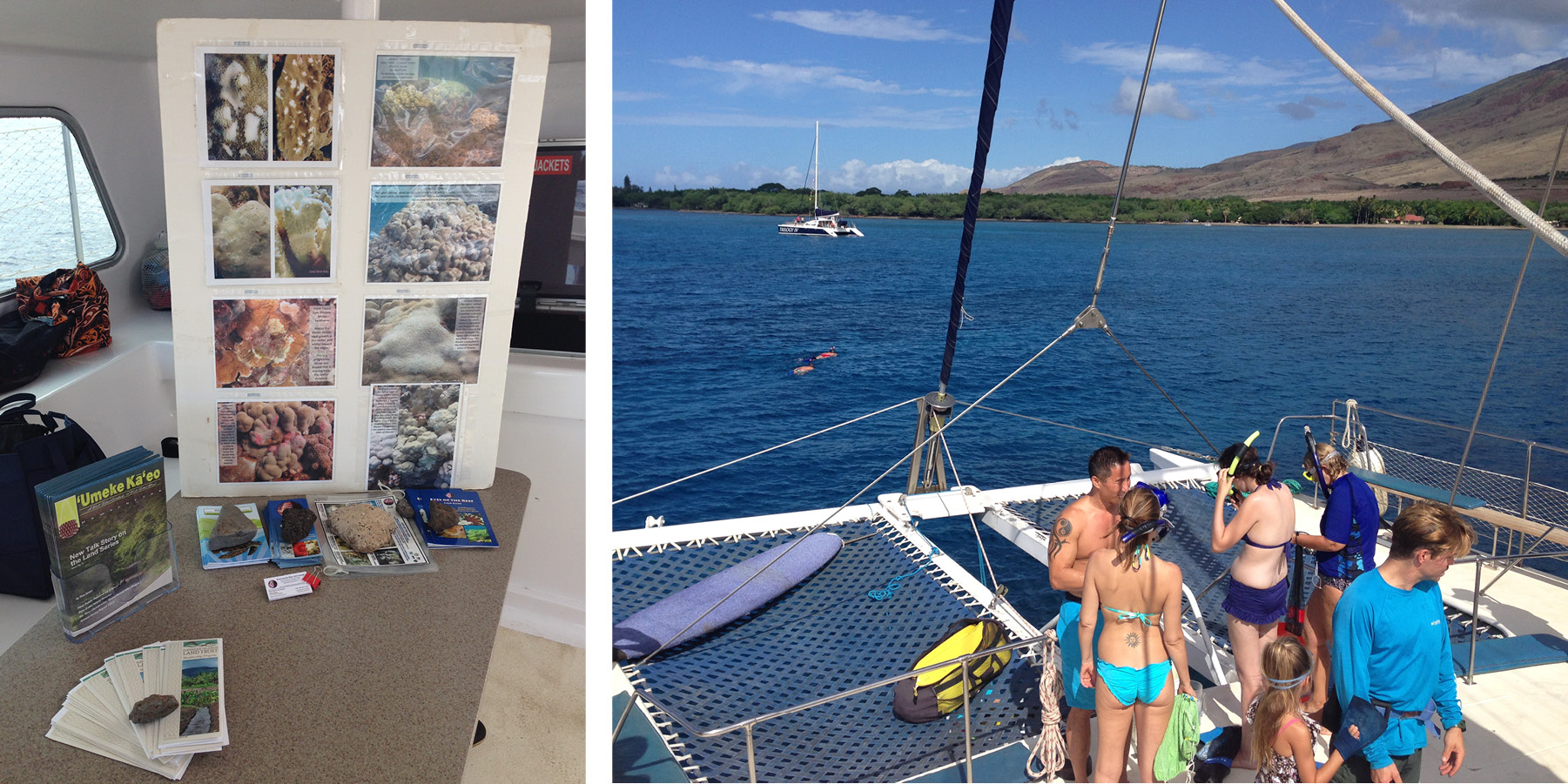 Its always amazing what you can learn on a Blue'Aina. Representatives from the Eyes of the Reef, the Hawaiian Islands Land Trust, West Maui Kumuwai, and the Hawaii National Marine Sanctuary Foundation came out for day to help volunteers clean the reef and to share their passion and knowledge about the ocean and conservation.
Darla, From the Eyes of the Reef, gave a presentation about available FREE workshops to learn how to count fish, recognize coral disease and how to become an EOR (Eyes of the Reef) member.
West Maui Kumuwai shared with the group about reef quest Reef Quest is a 3D underwater collection pictures, a virtual look at underwater reefs from collections of photos taken by volunteers to document coral reefs. Amazingly a 15-year-old boy started this project! To learn more, reefquest.org
After snorkeling and collecting what little trash that was at Olowalu reef, Volunteers came back on board to find a delicious lunch catered by Maui Flavors. Pulled pork sandwiches, coleslaw and a salad with more options then you could fit on a plate!
After finding a place to sit, the sails were raised and as Trilogy sailed back to Lahaina, Ted from The Hawaiian Islands Land Trust shared with us about the mission and goal of the Hawaiian Land Trust. "To protect the lands that sustain us for current and future generations." This includes protected habitats, Recreation areas and scenic vistas. Since 2011 the Hawaiian Land Trust has acquired over 17,000 Acres! To learn more, www.hilt.org
Before making our way into Lahaina Harbor, The Corporate sponsor for this Blue'Aina presented checks to our non-profit recipients. The Eyes of the Reef and The Hawaiian Island Land Trust each received $500 dollars from Max Tsai, the owner of TC Kokua! Mahalo Mahalo Mahalo Max! Thank you for making this all possible!